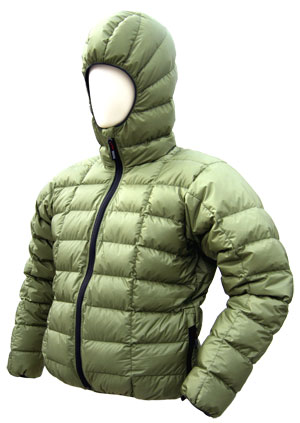 by: Craig Delger


The Down Jacket Buying Guide from GearBuyer.com provides an overview of variables to consider when purchasing a down jacket.

The primary considerations are:
Down Quality (Fill Power & Down/Feather Ratio)
Amount of Down (Fill Weight, Fill per Baffle)
Construction(Baffle Design, Cut, Shell Material, Hood Design)
Features (Zippers, Drawcoards, Zipper Keeps)


View our article on Waterproof Down for detailed information on hydrophobic down.
Down Quality
Down Fill Power is a measurement of "volume" used to determine the loft of the down used in the jacket. For example, take 1 ounce of 900 Fill Power down, and 1 ounce of 700 Fill Power down and place them in a cylinder. The 900 Fill Power down will take up more volume in the cylinder because it is has more "loft" associated with its down plumes. The higher the fill power the greater the insulating ability of the down per the weight of the down. Higher Fill Power down allows for better warmth-to-weight ratios. A higher Fill Power does not by itself mean the jacket will be warmer. Down Fill Power in conjunction with the Fill Weight(how much down is used) will determine how warm the jacket is.
Higher Fill Power down also enables the jacket to be compressed more easily.
For down jackets a Fill Power rating of 550-750 is good, and anything above 750 Fill Power is considered excellent.
Be wary of jackets claiming Fill Power ratings above 900, and that rating is extremely difficult to accomplish outside of a controlled laboratory environment unless some propriety down treatment is used.
Down Feather Ratio refers to the ratio of down plumes to feathers. Pure down is more expensive because it has higher loft properties. A good quality down jacket will have a 80% Down Feather ratio or higher.
Amount of Down
In the previous section we learned about Down Quality measurements like Fill Power and Down/Feather Ratio. Of critical importance is how much down is used in a jacket. Consumers frequently confuse Fill Power with Fill Weight(how much down is used). It is important to understand Fill Power is a down quality measurement and has nothing to do with how much down is used. A jacket using 6 ounces of 650 Fill Power down will most likely be warmer than a jacket using 3 ounces of 800 Fill Power down.
When considering which down jacket to purchase look on the tags for the amount of fill used. This figure is usually expressed in ounces or grams. If you are going to be using the down jacket as a layering piece like a mid-layer, 2 ounces of 800 Fill Power down may be all you need.
Construction
Construction details like the type of design of the baffles used in the jacket are also very important. Baffles are used in down jacket to keep the down insulation where the designer feels the jacket needs insulation. Two primary baffle designs are Sewn Through and Box Baffle.
Sewn Through baffles are are the most common and are less time-consuming and less expensive to produce. Sewn Through baffles also use less material, and as such tend to be lighter. In Sewn Through baffles the outer shell material is stitched directly to the lining material. Sewn Through baffles are not as warm as box wall baffles because at every point where the outer shell material is sewn to the inner liner material there is no down insulation.
Box Baffles are the best approach for creating warm jackets. With Box Baffles each "compartment" has walls sewn in place so that the outer shell material is not sewn to the inner liner material. This technique creates a baffle that is more uniform in shape, and does not have the "thin spots" associated with Sewn Through baffles. Box Baffles are more expensive to create. They are more time consuming to sew, and they use more material.
One of the more critical aspects of down jacket construction is the size, shape, and how much down is used in each baffle. Design aesthetic plays a role in the size and shape of the baffles they use on a jacket. Designers may want the jacket to be more fitted, and the baffles to be more flattering to the consumer's figure. This is commonly reflected in decorative baffle designs like diamonds, serpentine waves, or zig-zag patterns. However, there is a science to the size and shape of the baffle, and precisely how much down is used in each baffle. Studies have shown that having the down under a precise amount of compression in each baffle yields the highest performance. The science of that is beyond the scope of this buying guide, but for higher end mountaineering parkas it is something to consider.
Shell Materials are another consideration. The shell material used will impact the jackets overall weight, durability, and water resistance. Thinner shell materials will result in a lighter and more compressible jacket, but may also reduce its durability. Some jackets use more durable materials in high wear areas, and use lighter weight materials in areas where durability is not as critical.
Hood Design is another consideration in jacket construction. First off is whether you want the jacket to have a hood, have a removable hood, or have a hood that is specifically designed to be helmet compatible. Helmet compatible hoods are typically a requirement for climbing and mountaineering jackets. Climbers and mountaineers also have specific preferences on how hoods fit. Several high end mountaineering parkas use a small copper wire and several Velcro and draw cord adjustments in the hood so that the user can shape the hood their personal liking.
Features
Additional Features consumers may consider are the number, location, and size of pockets. Down jackets attempting to satisfy users looking for lightweight jackets may opt to use hanging pockets, or not include pockets at all. They may also not use draw cords around the waist and use lighter weight zippers in an attempt to reduce weight. Two way zippers are a requirement for climbing and mountaineering jackets as they allow the user to unzip the jacket from the bottom up to access their climbing or mountaineering harness.