Article by: Craig Delger, January 2014
Several companies have introduce hydrophobic down "waterproof down" solutions in attempt to solve down insulation's greatest weakness... it inability to maintain loft in the presence of moisture. The solutions are being sold under the brand names DriDown, DownTek, Q.Shield, Encapsil, and Quix Down. Major outdoor brand names like Sierra Designs, Mountain Hardwear, Patagonia, Big Agnes and more are introducing products that utilize these waterproof down solutions.
To improve how down insulation reacts to water the companies are using thin film bonding techniques like vapor deposition to treat the down. In theory this will help prevent the down from absorbing moisture and allow it to dry faster once it does become wet. These developments in waterproof down are a relatively new technology and are exciting developments, but it has come under some scrutiny.
Like this article? You may also be interested in our
Down Jacket Buying Guide
.
Is untreated down really that big of a problem?
There is some debate on the backpacking and mountaineering community forums regarding the need for waterproof down. The team at ProLiteGear.com recently posted a video testing how untreated down reacts when in direct contact with water... and measured the results over the course of 4 hours.
A member of a lightweight backpacking community posted "I have been using down in the backcountry for over 20 years without ever having the need for it to be waterproof", but others have indicated that they have had near hypothermic encounters when their down jacket or down sleeping bag lost its loft due to the down becoming wet. There isn't enough field testing to conclusively determine if waterproof down is actually beneficial in real-world applications.
DriDown
DriDown
treats down with a molecular level polymer to create a hydrophobic finish on each individual down plume. DriDown claims the finish allows DriDown™ to stay dry longer, loft better, and dry faster than untreated down. DriDown is owned by American Recreation Products, the parent company of outdoor brands like Sierra Designs and Kelty. Sierra Designs is using DriDown technology in several sleeping bags and jackets. The general opinion of DriDown is that it doesn't significantly improve down's performance when wet conditions are encountered.
DownTek
Using nano technology and a proprietary application process, Down Decor(the company behind DownTek) has created a water repellant down filling material that they claim effectively eliminates all of the previous negative attributes associated with down. An environmental benefit of DownTek is that it does not use PFOA(Perfluorooctanoic Acid, also know as C8) and PFOS(Perfluorooctane Sulfonate). These nasty chemicals do not occur in nature, and are considered pollutants. Members of the outdoor industry are considered about the use of these types of chemicals since they are used in some common products from 3M and Gore-Tex. Mountain Hardwear, Big Agnes, L.L.Bean, Fly Low, NEMO, EMS, and Brooks-Range have all been publicly named as using or considering using DownTek in their down insulation products.
Q.Shield
Q.Shield
DOWN from Mountain Hardwear claims to be a giant leap forward in down performance. Down fibers are infused with a permanent water repellency that helps maintain insulating performance even when exposed to moisture.
Quix Down
Not much is publicly known about Quix Down from Torray. The only brand at the time of this article that is selling products using the Quix Down solution is KUIU, a small brand focused on the ultralight hunting market.
Patagonia Encapsil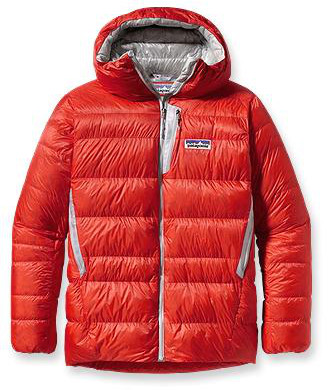 After five years of research and development, Patagonia has entered the waterproof down market with its own proprietary solution called Encapsil Down. Encapsil down is water resistant, stronger and 25% loftier than untreated down. The additional loft that Encapsil down gets has the added benefit of boosting the 800 Fill Power down to 1,000 Fill Power after completing the treatment process.

Encapsil down achieves its water-resistant qualities via a relatively benign silicon-based plasma-bonding process as opposed to the fluorocarbon-based wash-in techniques being used by other solutions. Electrons in the feathers partner with specific electrons from the plasma blend causing the treated down feathers actually become loftier, boosting the fill power of the feathers well beyond their original levels – 800-fill-power down becomes 1000-fill-power down after the Encapsil treatment.

The only known negative so far with the Encapsil technology is that research shows the traditional approaches to cleaning down products are not ideal for cleaning down treated with the Encapsil process. Patagonia Encapsil requires the NexWash™ liquid carbon dioxide (CO2) process that cleans gently and thoroughly without soaps or detergents. The NexWash™ cleaning process removes any impurities from the surface of the down, leaving it with improved water repellency and fully restored loft. You must send the down parka back to Patagonia for this cleaning process.

Patagonia Encapsil™ Down Belay Parka was released in March 2013, and the initial run of 1,000 units quickly sold out despite the $699 price tag.
It Waterproof Down a Winner?
Is the market is ready for a true waterproof down solution? Clearly several major brands think so and are investing heavily in promoting waterproof down solutions. However, initial sales of hydrophobic down products seem to be off to a slow start, but this is not entirely unexpected as results of field tests for all the of the hydrophobic down solutions are in short supply, and consumers are concerned about how these solutions hold up over extended periods of use. Patagonia has generated a great deal of interest from their Encapsil process, and numerous products using DownTek's solution are hitting the market this season. GearBuyer will continue to monitor developments in the space... stay tuned for more information.